AZ Integrated Telemedicine Platform Login Instructions for Patients
For best user experience, please make sure your device and browser meet the specifications described below:
Supported Devices
Laptop (Mac or PC)
Desktop (Mac or PC)
Mobile Phone (iOS or Android)
Tablet (iOS or Android)
Supported Browsers
Any of the browsers listed below can be used with any of the supported devices above.  Please make sure that you have the latest version of the browser installed on your device.  Older versions of the browser may not fully support the videoconferencing.
Google Chrome
Firefox
Safari (recommended on iOS devices)
Once the above requirements are met, please follow the steps 1-4:
Step 1:
You will be checking into a virtual waiting room using your device to be seen by a provider.  Click the link below which will take you to the virtual room.
https://medical.akosmd.com/#!/room/azintegrated/landing
You may also copy and paste the link above onto your browser's address bar.
Step 2:
Enter your first name, last name and mobile number in the following screen:


Step 3:
Click "JOIN" and you will be asked to verify your identity with a code that was just sent as a text message to the mobile number you provided.  Enter the verification code and click "Verify."


Step 4:
Once you enter the code, you will be asked by the browser to give permission to access the Camera and Mic.  Select "Allow" as you will need the camera and microphone in order to see the provider via videoconferencing.
Once you have given the above permission, you will enter the virtual waiting room which looks similar to the picture below (the images of individuals were omitted for privacy reasons) and the window will display your image and the provider's image when they join, side-by-side.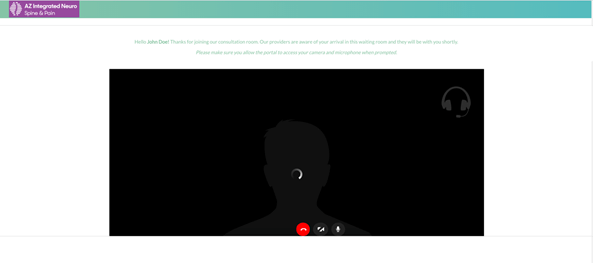 By now, the provider will have received a notification that you have checked into the virtual room and they will join you as soon as they become available.  If the provider (or an AZ Integrated staff) has not joined you in 10 minutes, please call 623-322-5700 ext 117 or ext 410 for further guidance.
Help/Support
If you experience issues with any of the steps above, please send an email to briana@azitegrated.com or sarai@azintegrated.com describing the issue in detail and include a screenshot, if possible, so we will assist you and resolve the problem ASAP.